Contact Channels
If you would like to get in touch with us, we would love to communicate with you as well. An important part of our work is the direct communication with the Farmers, the Farmers with the CrowdFarmers and the CrowdFarmers with us.
When we launched the idea 💡 of  CrowdFarming, our first intention was to "simply" take care of the logistics and the web page. We thought that the Farmers would be in charge of contacting the customers (CrowdFarmers) and inform them on a daily basis. Quickly, we had to accept the fact that Farmers don't spend their day in front of a computer and that the use of an online translator was far from ideal.  
We ask for your patience when contacting our team or the Farmer. If you adopted something from a Farmer, you can get in touch directly with him or her to organise a visit or enquire about your adoption. Don't despair if it takes them a while to respond.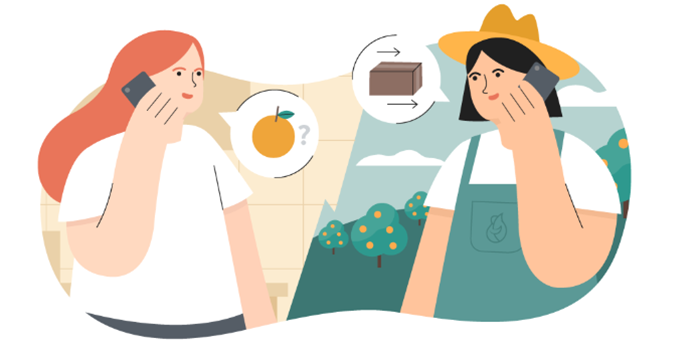 Our team can assist you in German, English, Spanish and French.
| | | | |
| --- | --- | --- | --- |
| DEUTSCH | ENGLISH | ESPAÑOL | FRANÇAIS |
| | | | |
| T: +34 932 71 29 27 | T: +44 20 3318 4317 | T: +34 919 01 91 80 | T: +33 1 76 46 07 12 |
Opening hours (not limited to these) ⌚
☎️ You can reach us by phone Monday to Friday from 8:15 h to 19h 30. Outside these hours, you can always try your luck and if we happen to carry the phone with us, we'll be delighted to assist you. We are not available 24/7 on the phone but when we are available, we always answer the phone with a smile, come rain ☔, snow ❄️ or suffocating shine ☀️.
📧 You can send us an email 24/7, 365 days per year (or 366 during leap years). We'll respond to you as soon as possible. If it takes us more than 4 days to respond and your request is urgent, perhaps we have not received your email. Call us and we'll help you immediately.
---
---